Our History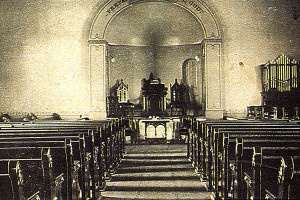 The history of First Baptist Church of Cape May, the oldest church in Cape May County, spans more than 3 centuries. The First Baptist Church of Cape May ranks as one of the first churches in the colonies, the fourth Baptist society organized in New Jersey and is listed as the twenty-third Baptist society formed on the North American Continent. First Baptist Church actually had its beginnings in the 1600"s when thirty-five Cape Cod whalers came to this area to continue their trade on the Delaware Bay and settled near what is now Town Bank. Many of these settlers were of the Baptist faith and began to meet in small groups in homes for prayer and exhortation. On June 24, 1712, the First Baptist Church Covenant was signed by thirty-seven charter members, the largest membership to enter the Philadelphia Baptist Association up to that time. Their doctrine was Biblical, and purity of life and holiness was their concern.
Our present church, built in 1912 and dedicated in 1913, is the fifth building the church has built and the second at this location. In 1715, the first meeting house was erected on what is now Rt. 9, about 4 miles south of our present church, in the town first called Romney Marsh, then Middletown. In 1745, Middletown became the county seat of Cape May Court House, and the building was sold to the county to be used as a Court House. The second and third meeting house (which burned in 1854) was built on a site near the old Baptist Cemetery. The fourth was built on Main Street in Cape May Court House, on the same site as the fifth and present edifice which was completed in 1912.
It is rare to find a church that has prevailed for so many years.